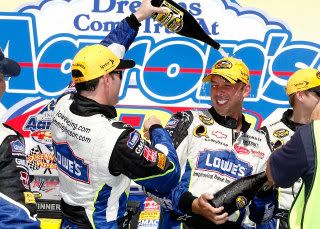 ...make for one happy camper!
I'm almost getting used to my boys holding off til the last lap to pull off killer moves to win the race, but not quite. I have to admit, I barely did a lick of work this afternoon while listening to the race on Trackpass (how do I love thee, Trackpass?). RR isn't talking to me right now - she'll get over it. Just because we took the lead away from Kenseth...
Gigi ended up being the winning project for working on while watching the race (thank goodness for Tivo). Even though I knew the result, I had to put down the needles to watch the last 10 laps. Gigi is way easier to work on while not looking at my hands.
I'm officially on to the Foot portion of Hippo. It's not quite photo-worthy, but it makes me happy. I'll work on it tomorrow and take a new shiny picture of it after we go visit with Patrick.

*photo courtesy of Racing One