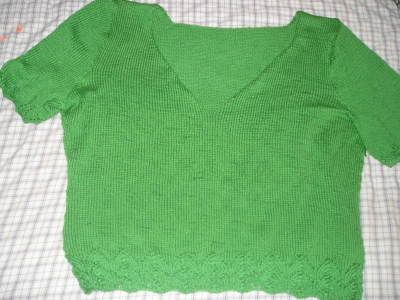 It ain't pretty but it's done. I think there were seaming issues - well, I know there were seaming issues. We'll see what happens, but not for a couple of days. I don't even want to look at Thorn for a couple of days. I think the next couple of days are going to be devoted towards picking up all the random scraps of Thorn yarn, the 3 copies of patterns, tucking the needles away, etc.
OH! I've never done this before but I've seen it in other places so here goes. I'll perfect it later.
Pattern: Rose by Alexandra Virgiel
Yarn: Knit Picks Shine in Grass
Started: Opening Ceremonies, Feb. 10, 2006
Finished-ish: Closing Ceremonies, Feb. 26, 2006

The Knitting Olympics has been a very interesting experience. I've learned that I can actually finish a project in a reasonable amount of time. I've also learned that I have issues with competition, especially if it's with myself. I've dealt with tendonitis in both wrists/forearms and more sore shoulder and back muscles than I can conveniently count, just to try to get this done on time. Thank goodness for the miracles of modern technology.
I don't think I can face Inny for a little while. I think I need a couple of weeks of fluffy projects. Wrap up K2, start on mystery project, start on whatever project Holly cons me into later this week.
The CA race today was boring as all get out. Too many grooves, pack got way spread out, it was a real yawner. Jimmie didn't quite have the car to win, but was fortunate enough to have some other guys have some trouble and ended up with a 2nd place finish, behind Kenseth (so at least RR's happy). I'll take the good finish with a loose race car and the week off. Especially when 20 & 16 have bad weeks. Next stop is Vegas in two weeks.
I thought the flame extinguishing for Turino was a little anti-climactic. I'm usually ready to bawl like a baby but this was just so sudden. And the whole bride thing was just a little strange. I'm choosing not to discuss Ricky Martin. Do you think it felt strange to perform facing an audience of clowns? That has to be just a little strange.