Okay, I know you guys out there are knitting, even if you aren't reading my blog, so it's time to chime in. Where do you stand on your Knitting Olympics' projects?

Thorn is at 11" and holding. I hope to get to the end of the body work tonight and start on the V-neck split tomorrow morning before heading out to celebrate Thea's birthday. How does one explain that they can't bowl due to a knitting injury?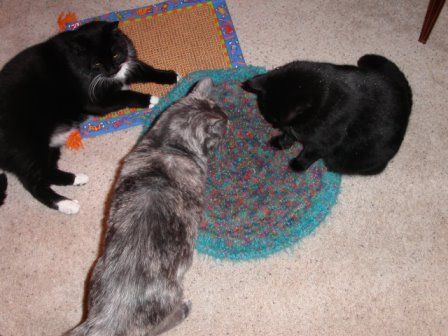 After extensive blog-surfing, I've come to realize that our team was not the only one to stumble out of the blocks. Virtually every one that I read bore some mention of frogging or tinking or having to set aside out of frustration, so keep at it, gang! Here we have the Terrible Threesome examining Stick's work on the Kitty Pi-zza. Apparently she was so excited about being done with the bottom of her catbed that she just...stopped. Rumor has it she's almost done with the new-and-improved Kitty Pi with walls so we'll see what happens.
Elizabeth and I are going to take advantage of our 3-day weekend and so some knitting on Monday - I'll be sure to get some pictures of her blanket. Updates on Melyssa's scarf can be found on her blog. As for Steph, she's off for a romantic weekend with the hubby (and the puppy) to Cupertino so maybe she'll give us an update when she gets back.