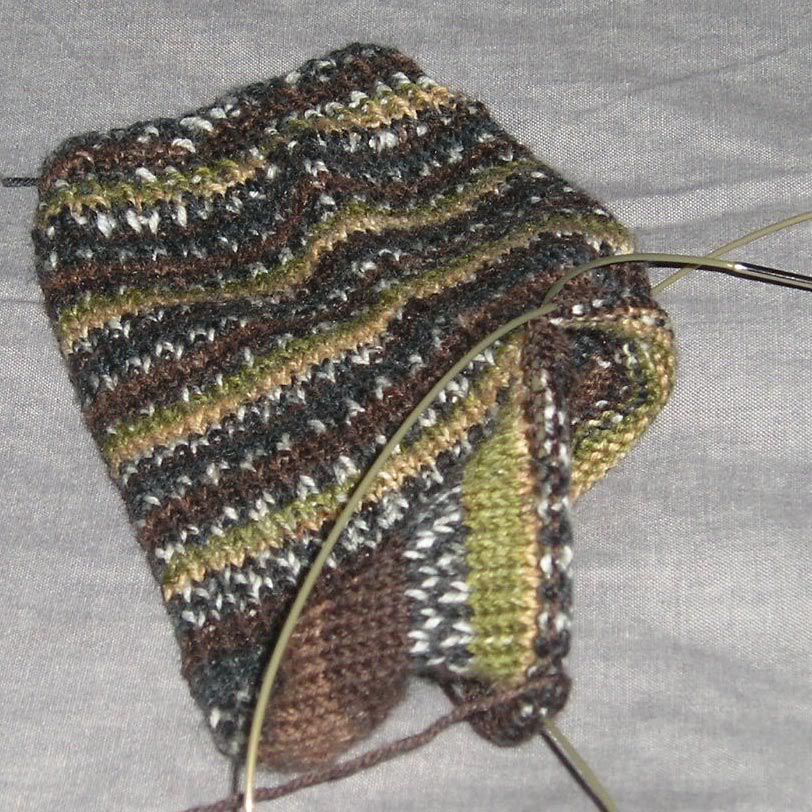 I'm trying to plow my way through the heel of K2 before tomorrow so I can at least be that far along before tossing it aside for the next two and a half weeks (or until Rose becomes too unwieldy to take on the metro, whichever comes first).

I did a quick sweep of the room and did manage to find the other six balls of Shine for Rose, so at least I don't have that to worry about. They were hiding under my unfelted BottomsUp bucket hat so I went ahead and threw that in the wash (after a year, maybe two, of sitting in the bin). I ran it through twice, but I think
I may have been a little overzealous. It almost appears to be more bowler-like in shape than buckety. Bucket-ish? Poor little Pook - forced to model a lopsided red felted bowler. At least he's a good sport about it. Brutus would've laughed in my face.

So, do I get to count the BucketBowler as an '06 completed object or does it get attributed to '04, which is when I probably finished knitting it? It might have been early '05, I suppose.

I think after the KO are over, I may have to embark on a UFO tour. Finish the scarf I started while Melyssa and I slaved over fixing my computer (well, she slaved; I knit). Inny, Kermit & Banff - obviously. The top down cardigan REALLY needs to be addressed. Well, I'll have a better sense of what I have on tap after this weekend.