I'm not gonna make it.


There, I said it.

Thorn isn't going to get finished by the end of the Olympic Closing Ceremonies in less than 36 hours. The only way it was going to happen is if I finished a sleeve today, a sleeve tomorrow, and seamed on Sunday. The body's done - always good news - but I hit a snag with the sleeves and I had to fire off an email to the talented designer to beg for her assistance. The master plan is to start the second sleeve at work tomorrow and hope I have a message waiting for me when I get home tomorrow.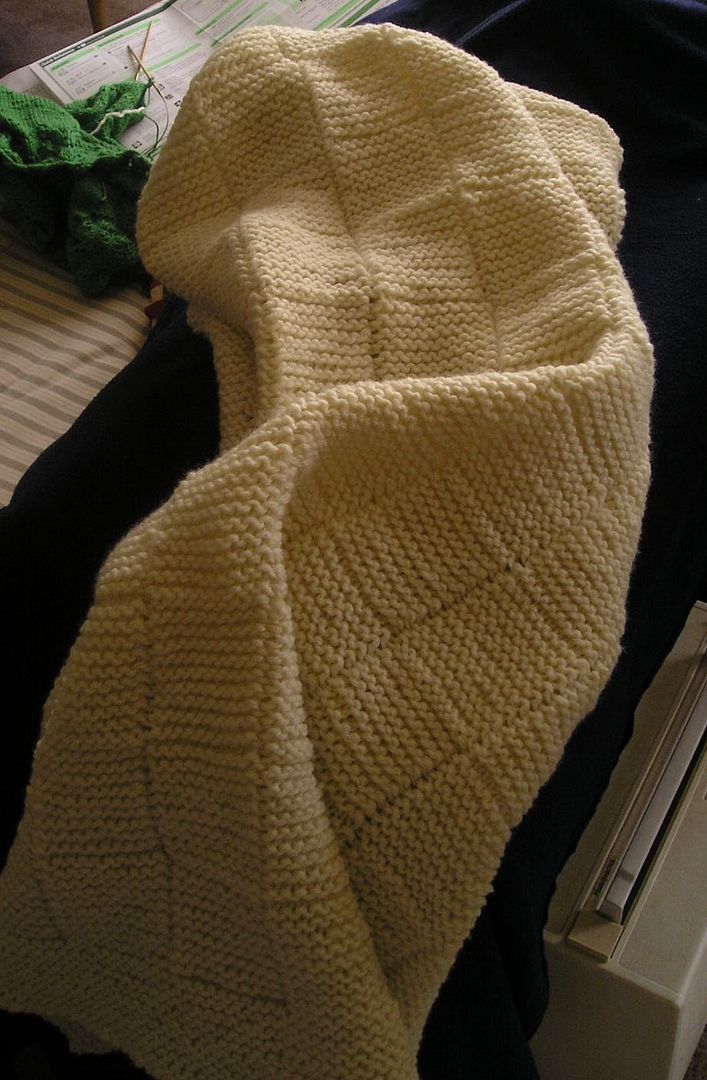 Elizabeth has finished at least one beautiful baby blanket and has started on number two. I took this pic of the completed one while I was hanging out at her house on Monday watching Doris Day movies. Pay no attention to the crumpled Thorn in the corner. She was well into the next blanket - a neat corner-to-corner ribbed (or striped) pattern.
Since I can never manage to finish one project without daydreaming about the next, I started a list of projects I wanted to tackle in 2006. It's a little ambitious, a little comical, but mildly feasible.
Sweaters: Inny*, never-ending cardigan* (definites); Alice, Somewhat Cowl, Rogue (maybes)
Socks*: Jaywalkers, Lava Flow, basic
Misc: Pasha*, Booga Bag*, Coronet, baby blanket*, scarf. Penobscot Bay hat.
I already have the yarn for most of them; the Somewhat Cowl will probably be the most expensive but we'll see what happens. I'll undoubtedly end up buying a little souvenir yarn at Why Knot Knit next month (it would be rude not to buy something).