(settle in - this is a long one)
I am a band geek.

Normally, one might say "I was a band geek," but a) Melyssa would laugh in my face for using the past tense and b) when you're as big a band geek as I was, it's hard to toss that all aside just because I haven't played my flute regularly in 17 years.

Today marks the Opening Ceremonies of the 2006 Winter Olympics in Torino (not just the Knitting Olympics in Arlington) and I have had John Williams' "Olympic Spriit" stuck in my head for DAYS! It would've been fall of my senior year of high school, I think and we did this whole 'Olympics-themed' show in marching band, complete with replacing our feathered plumes in our hats with tiny colored flashlights so we could form the Olympic rings on the field and march in circles. This dramatic piece of choreography was performed to none other than "Olympic Spirit." I think we played the main Olympic theme, too, but Spirit sticks out in my mind.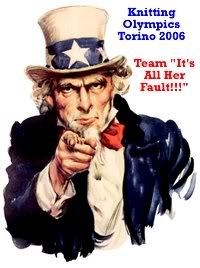 Sam says it's nearly time to Cast On for the Knitting Olympics! Not even all of Team "IT'S ALL HER FAULT" can get their act together.
Steph will be starting her Zeeby's Bag at 5:00 PST (don't get carsick!) on her way to the U.S. v. Japan soccer game in SanFran.

Melyssa

, Pam & I will cast on once the official Opening Ceremonies have begun on NBC tonight at 8 - that should give us plenty of time to scarf down Chinese food.

Elizabeth will be off eating her brother's cooking (mmmm!) and will work on an existing baby blanket that she's trying to muddle through (the backlog is unspeakable).
Our good friends at the National Weather Service have issued a Winter Storm Watch for tonight through tomorrow evening: "A SWATH OF SNOWFALL OF 5 INCHES OR MORE IS LIKELY ACROSS THE AREA...WITH ACCUMULATIONS UP TO TEN INCHES POSSIBLE." Uh-huh. Suure. This could mean one of two things: it's either going to rain for the next 48 hours, or we're going to get two feet of snow. Regardless, it should make for good knitting time.