And by "her" I mean Holly.
Here we have Hol posing with two of her best buds. This was pretty early on in our Saturday of Maryland Sheep & Wool-itis. She picked me up at roughly 7:45 in the morning and headed north, after brief but critical stop at Starbucks. After that, everything is just a blur of alpaca and sheep and goats and bunnies and wool. Lots and lots of wool.
For the most part, I just followed her around. Cormo to Brooks Farm. Brooks Farm to Tess's. Tess's to Cherry Tree Hill. We dodged the Koigu flea market and drooled over kettle corn. Hol snapped up her covetted Cormo and is planning an aran sweater. Maybe if I ever finish Inny and ever plan another aran sweater I'll spend the money for Cormo. Or maybe from A Touch of Twist (?) although I can't remember for sure. There was also a yummy yarn vendor across the way from Cormo, but I can't remember the name of it.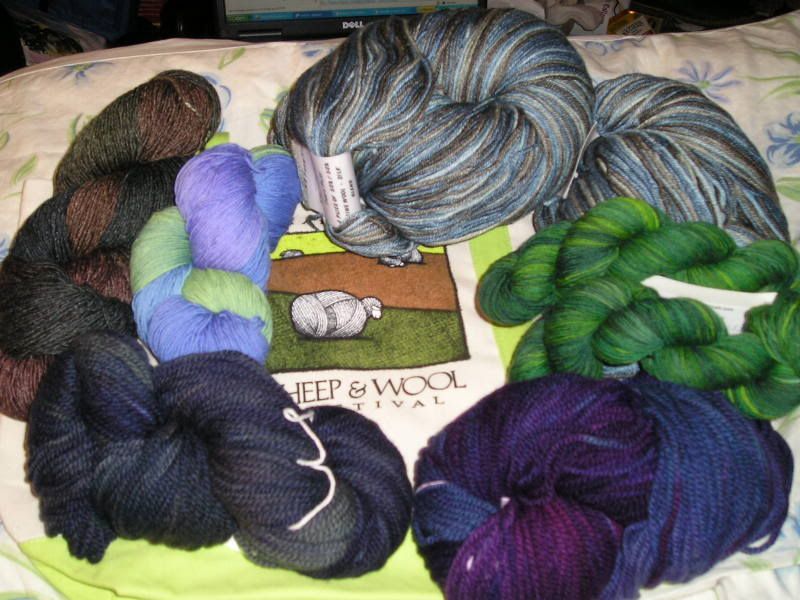 Final yarn toll wasn't quite as significant as it was for many other people, but it was a bit more than I'd intended to spend. Clockwise from 12 o'clock: Brooks Farm Yarn Four Play wool/silk (4 skeins), Spirit Trail Fiberworks Superwash Merino/Nylon sock yarn (2 skeins - for Dublin Bay socks), Cormo Cross (2 skeins - one in a purply blend and one in a blue-grey blend), Brooks Farm Limited Edition (1 skein, maybe socks for Pop) and last but not least, Tess' Designer Yarns Super Socks & Baby (1 skein). Buried beneath it all is my tote bag b/c H insisted that I simply MUST have something to prove I witnessed the insanity that is MD Sheep and Wool in person.
Last but not least were the people. I'm horrible with names so if I met you and am blanking, PLEASE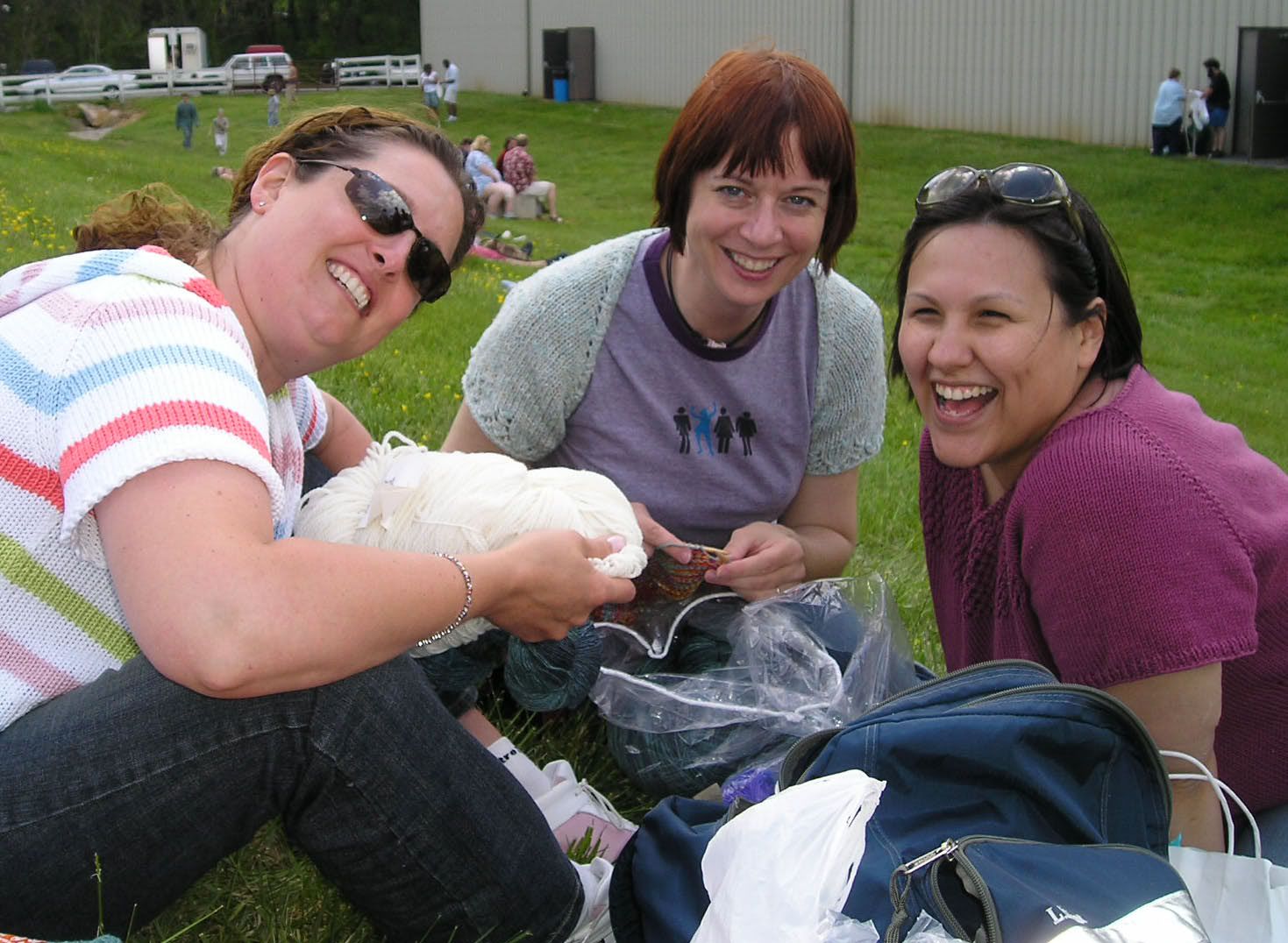 don't take it as a personal sleight - it just means I'm dippy and was suffering a bit of sensory overload. There was the bloggers' get-together at Wendy's book-signing on the grassy knoll on the grounds. I'm horrible at estimating numbers, but I'd say maybe ballpark 150? I pretty much sat quietly in the corner with the 4-5 folks I knew (shocking). I DID meet Stick's secret pal One Crafty Bitch - there was much giggling all around. She seems like a great person and she and all the PGH bloggers had great tshirts (which I, of course, didn't think to take a picture of).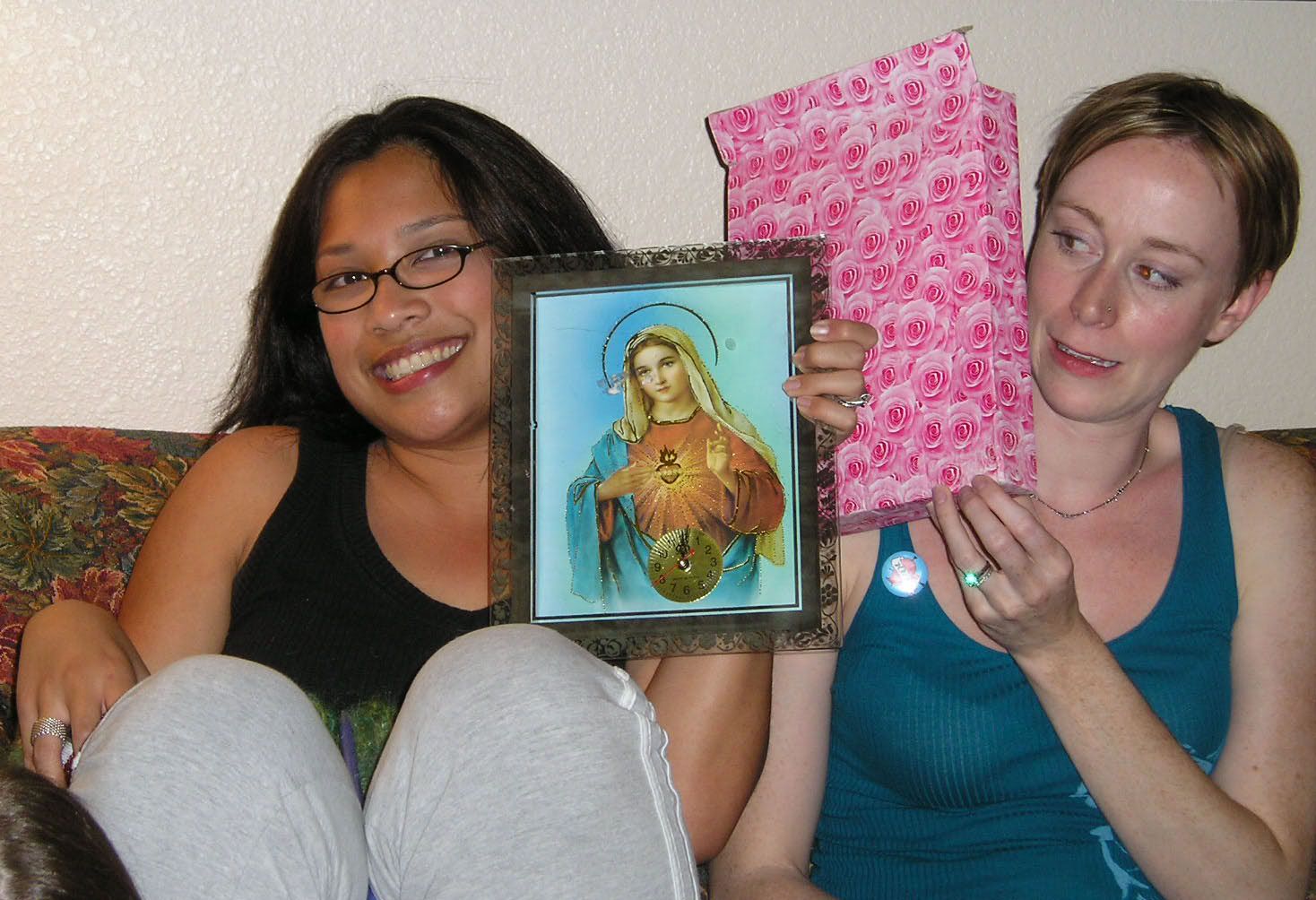 Late night, after we got some real food, we swung by a get-together for some out-off-town bloggers just outside of Baltimore. I'm going to end up spending the next several days trying to piece together who people were, but I think I Heart Knitting and frecklegirl and Lolly and AnneMarie and Vibegrrl were some of the attendees. I largely sat in a corner and observed (since I was just tagging along) but I did have a good time. The appletinis and hystercal laughter were a great end to the day.
There's a story behind this snazzy LCD, light-up Virgin Mary clock, but I don't know what it is. And I think that's a good thing.