I'll give you a moment to bask in the glory of Hippo 1. What? You want to see the toe? To use yesterday's Word of the Day, it's FABULOUS! I have very strong feelings about this sock. I haven't even succumbed to second sock syndrome - I cast on the 2nd sock right after Hol made me graft the toe and and weave in the end. I'm about halfway through the first repeat on the leg. I still have my fingers crossed that I have enough CTH to finish up.
Contrary to my original plan, I went ahead and cast on Dublin Bay socks today at work with the snazzy new Spirit Trail that I picked up this past weekend. They're going to be my socks that I work on at this work meeting all weekend, but I wanted to cast on while I could still get help online. Hold on to your hats, folks - I'm actually embarking on a knitting first: I'm modifying a pattern. Not an "Oops, I screwed up, oh well if I do it on the other side no one can tell" modfication, but an honest to goodness, "actually had to use dormant, dusty parts of my brain" modification.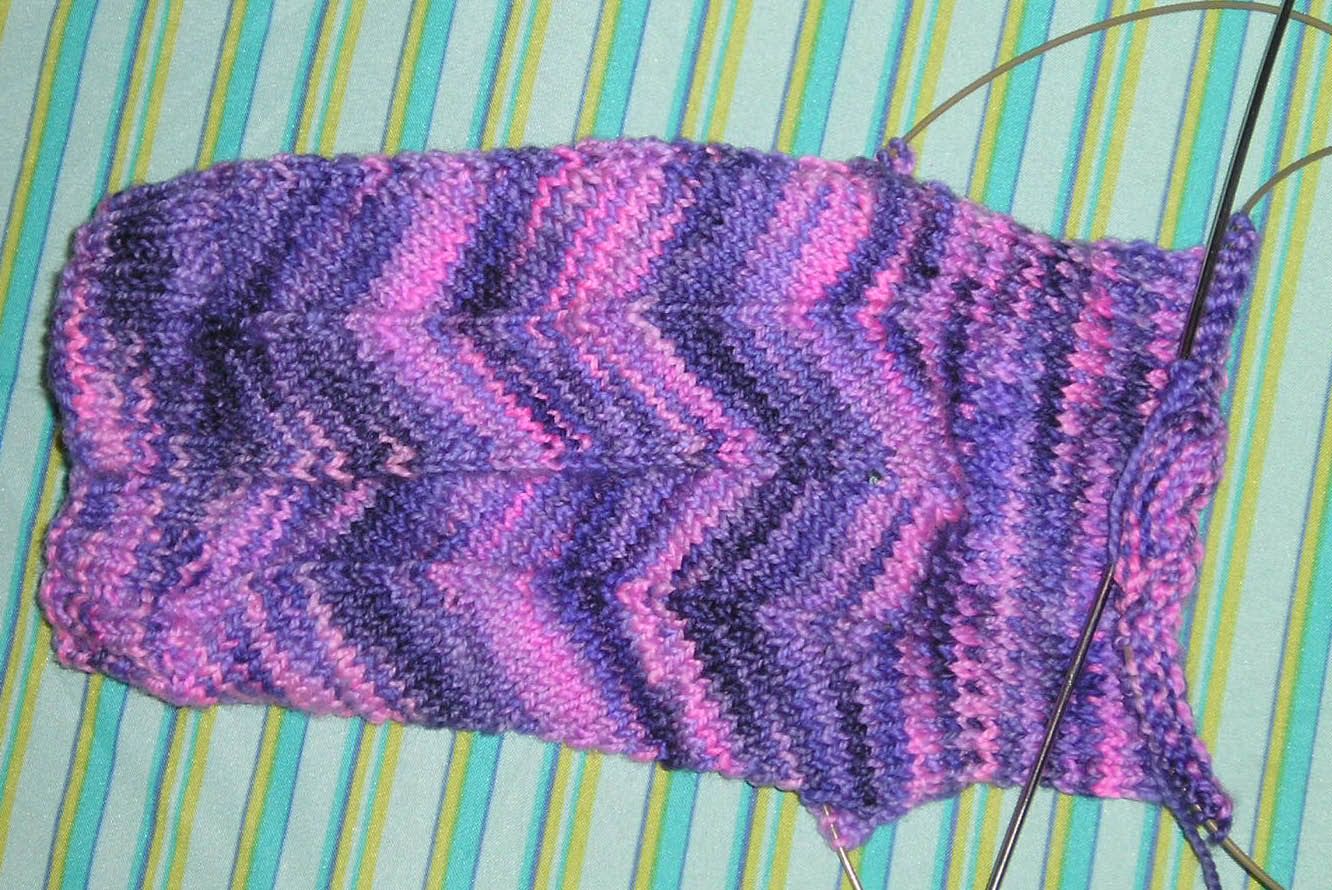 I did actually put H1 down for a while and work on Stick's other Jaywalker (MP2). I had been at a tough spot in Hippo and I needed something where I didn't have to concentrate on the crazy chart/graph. The heel flap is done, but I have to do that whole heel-turning, stitch-picking-upping thing.
SPOILER ALERT
Okay, Steph, I gave you, like, 120 hours; if you haven't seen the race by now, shame on ya. I ended up having to watch the Richmond race on Tivo Sunday since I was playing at MSWF Saturday night (have I mentioned how much Sat. p.m. races screw up my scheduling?). Phyl and I discussed ditching the sheep and driving down to RIR to catch the race, but alas, it was sold out so we decided to drown our sorrows in sock yarn. Chimmie really struggled all day but managed to pull off a 12th-place finish. Everyone can sleep safe and night once more because Junior has a race win. Harv had it all but sewn up but his crew chief made a puzzling call. DCU also racked up their first loss of the season against the Crapids. I really have nothing to say about that debacle.