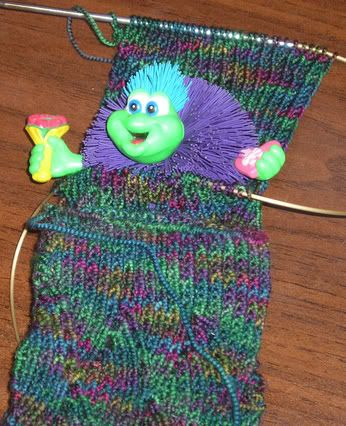 ...the mouse will sit behind closed doors and knit on Hippo all day. I've made it through the heel flap but haven't had a chance to turn it. Since I got through most of it at work, I figured that's where it should get photographed. Here we have Hippo serving as a sleeping bag for my Charming T.K. Koosh doll thingy. Given to me by a less-than-charming T.K. many many years ago.
I got a lot further along on Gigi last night while I was watching Lost last night than I thought I had. I'm still not sold on the fit - it's a little baggy and I'm not sure what the arms are going to do but I'm in for a penny here, so 'll just have to finish it up and see what happens. I have a birthday thang tomorrow night, but most of the day free Saturday and Sunday so hopefully I'll be done by this weekend. We'll see.
Since I have a bazillion skeins of sock yarn (and four more on the way), I'm seriously considering joining the Summer of Socks KAL. Since I have 3 pairs already on needles, I think that I may be preordained. Something more to contemplate.