As I was walking to work Friday morning, I started thinking to mysef that I was going to have to start work on knitting a blue tank top. I mean, I didn't have any blue summer-weight shirts and I really should...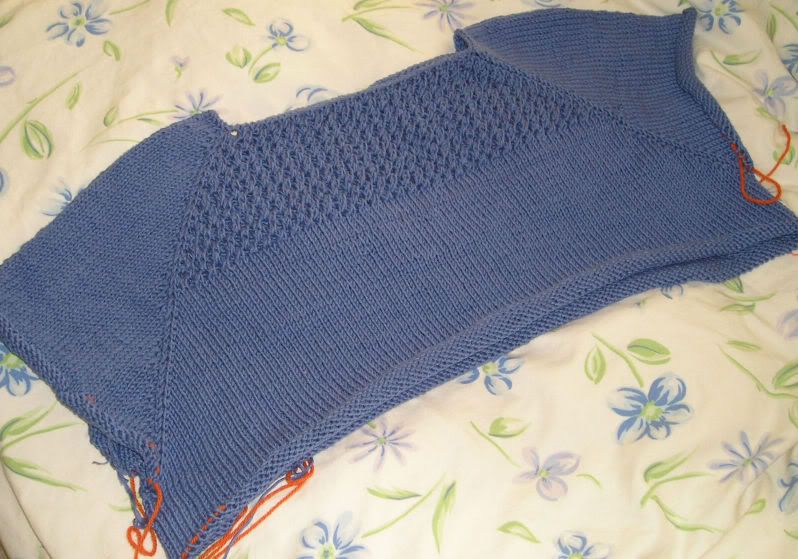 ...and then I remembered Gigi. Oops! I figured this was a sign I should get working on her again, so I laid Hippo aside and did some stockinette. She's coming along, but I don't like the sleeves. they're a little drapy. I think I may just keep going and then graft the armpit a little tighter. Maybe
Hol
can give me some advice next week. As of right know I'm going to keep knitting around and around. After all, the only workout I'm getting these days is this exercise in futility.
Saturday morning I headed off to Knit Happens for the booksigning of Wendy's new book. Apparently she's already turned the corner on printing number 3 and is heading towards 4 in a fury. I couldn't be happier for her success. This has absolutely nothing to do with the fact that I was dubbed an FOW yesterday. Do we get membership cards? Discounts at KH? These are the important things that I need to know. Not that bragging rights isn't enough, mind you. I still don't feel I'm quite worthy of FOW status. Perhaps AOW is more my speed. I'm in apprenticeship to an FOW...
Last night was a rather disappointing tie v. FC Dallas; that one point allowed KC to re-take over first in the east. With rain sweeping through N. Alabama, there's no 'Dega news to report. Slow sports weekend all around.
The best news of the weekend is that Brian got back from Iraq on Thursday. B isn't anyone particularly special in my life - aside from a debilitating day in Sacramento - but I'm just glad to have him home safe. I met up with him and a few other people last night after the game for drinks. My fears about him attempting to break me again proved to be unfounded as it took him a couple of minutes to realize I was even at the bar. I suppose the emergency tonsilectomy he was performing on Tipper rightfully took all of his attention. Regardless, he's going to go take care of some business, head back to California briefly then plans to be back in D.C. permanently in June.
Stick, you're going to have to come up for the welcome home party. I'm not going through that alone.
Such is the life and times of a social butterfly - well, at least, the last weekend in April.