That definitely isn't to say that I didn't enjoy my 4-day visit with Steph, I really really did. It's actually more a comment on the fact that all three of my roommates are vacationing in California for the next week and there's nothing more precious than alone time when you live with three other people. Of course, that doesn't mean I'm not ensconced in my room, I'm just saying it's an option.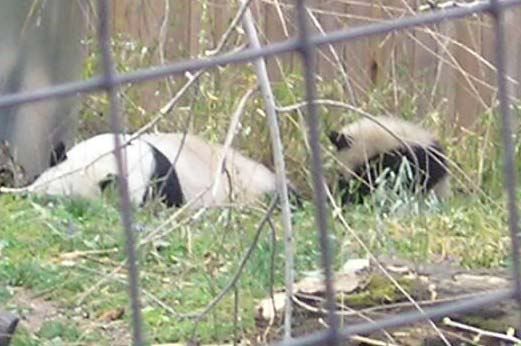 I took Friday off work and we headed to the National Zoo. Steph had never been and I hadn't been since new latest round of pandas. Tian Tian put on quite a performance, but we could never get a good view of Tai Shan. Here we have Mei Xiang (Mama) zonked out and Tai Shan doing something very important involving bamboo. Clearly we wouldn't understand.
It rained on and off all day, sometimes torrentially. We made a pretty thorough sweep. We checked out cheetahs (cubs and all), sloth bears, lions, tigers, seals and sea lions, gibbons, bald eagles, elephants, giraffes, and capybaras, to name a few.
After the zoo, we did a round of our friendly neighborhood yarn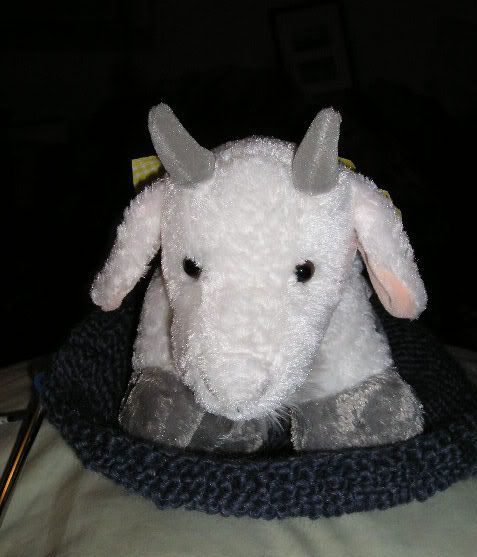 stores, got the goodies to start our personal Kitty Pi KAL and spent some quality time at Knit n' Nosh. Steph has definite LYS envy. And a little bit of public transportation, although I definitely could've stood to spend a little quality time in a car and out of the rain and wind this weekend.
At least Steph got to see DCU pull out a win despite the wind and rain. She's completely addicted to working on her catbed for Squeaker and Kasey (is it Kasey? Casey? KC? I've never been sure). The bed I'm making for Ms. Charlotte is coming along nicely, though I also finally got back to work on my Hippo socks. I kept twisting the cast on but finally I got to the point where I can start to see the pattern emerge.
So now I'm juggling Kitty Pi, Gigi and the Hippos. Of course it would make more sense to just concentrate on one of them, but that would make far too much sense and is clearly not part of my M.O. Tomorrow will be Hippo Day. I really need to make some progress. I'm getting more and more ashamed of myself as a KAL member and only having just cleared the cuff.