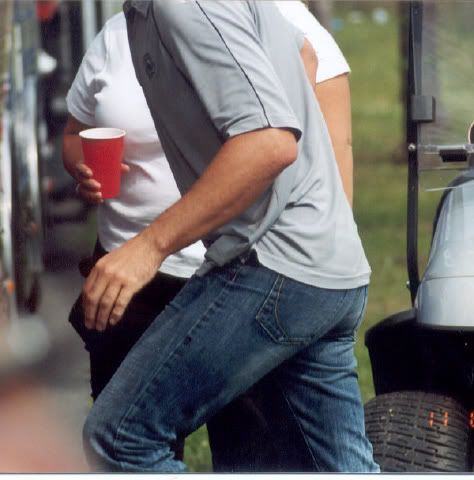 Not Ch-booty (although I do love the Ch-booty). Actually, we can discuss the booty for just a minute. The Ch-part of this booty belongs to Chad Knaus, crew chief for Jimmie Johnson, my li'l ol' NASCAR driver. Folks love him, folks hate him - I don't really get involved in the pissing matches, I have better things to do with my life.
Anywho, Pammy is really the one responsible for us choosing Jimmie as our driver. They share a birthday, you see. It's astrology - we really can't battle the solar system on this one.
Anyway, the interest started with Jimmie; the addiction started with Chad. The brains of the operation who - honestly - does push the boundaries a smidge further than NASCAR officials would really care for, but he's good at what he does. And has a fine Levi's-clad backside.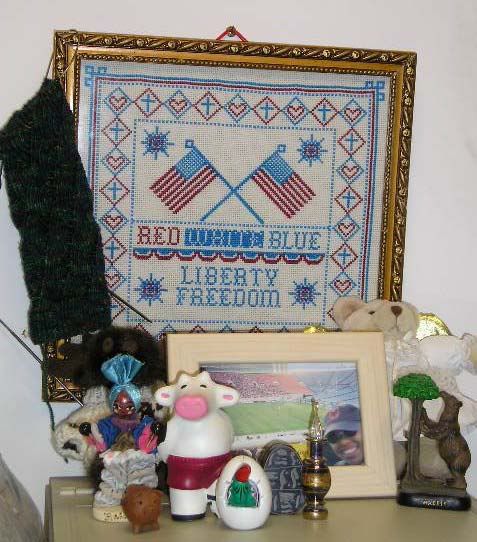 On the other hand, cube booty is what originally lead to that title. In a feeble attempt to make my sock photography interesting, I bring you 'Still life with Hippo and Cube Booty'* The lovely cross stitch, which mysteriously appeared in my office after a week's vacation, as you can see, is graced with flags, fireworks, crosses and hearts. Not that I'm against any of these things - I'm even pro Liberty and Freedom - but this entire cross stitch is just HEINOUS. If anyone wants it, just let me know, I'm more than happy to mail it to you.
Other items in the cube booty bounty include:
- my soccer-playing Tillamook stress cow from Santofer
- my Madrid bear
- a moose (in a sweater with moose on it) that I think also came from Santofer
- my posable doll from the Bahamas
- a scarab (?) carving from my boss's trip to Egypt
- my good luck 3-legged pig from my trip to Martha's Vineyard
- picture of me and my futurebabydaddy Zach (you didn't think Holly was the only one who stalked sports figures, did you?); and
- last and certainly not least, this TERRIFYING teddy bear in a white lace dress with gold lamé wings that, when you squeeze it, says in this very Talkie Tina voice, "I'm your guardian angel. I'm your special friend." I'm terrified of it, but I'm afraid to throw it away because it will somehow come back and attack me in my sleep.
* weirdness in the picture of the cross stitch; I guess the camera picked up all the little grids. It's not too bad once you click on it.