Everytime I think of that word as an exclamation, it reminds me of taking volleyball in middle-school gym class.

Anyway, I haven't touched Kitty Pi since Steph left on Sunday. I talked to her last night and apparently she's already DONE with her knitting and tucking in her ends - I think this weekend will be her felting experience. GO STEPH!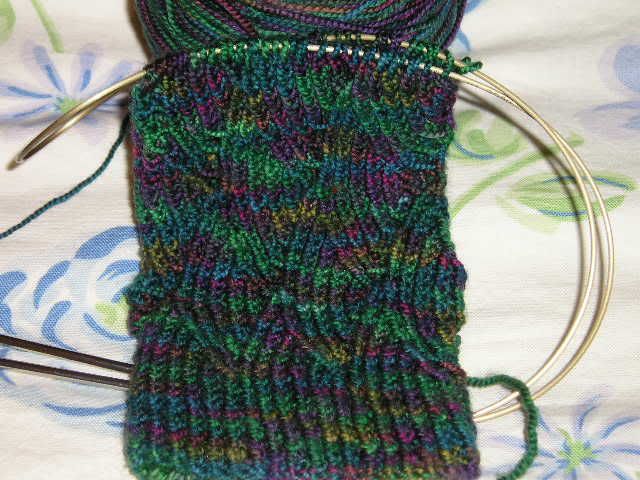 For the last three days, I've really been working on my Hippo. Isn't he coming along nicely? I'm halfway through the second repeat on the leg and decided that was a good place to stop. Having frogged him once before, I think I have a better sense of how to handle the YOs, etc.

Today I set Hippo aside, and picked Gigi back up for a couple of rounds. I'm done with the lace section and have moved on to the increases for the bust. The Green Gables KAL isn't set

to start until May 1, but a number of us have already cast on so they may push the start date up a week or so. I don't know that it matters too much for me. I'll end up frogging her and starting again so it's not a big deal to me.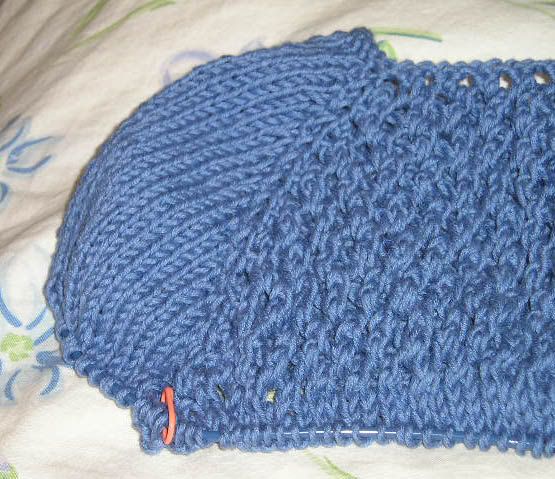 I just can't figure a way to make the lace look nice to photograph. I don't think I made any monumental mistakes. Here's a detail of the shoulder:
Last but not least, last night I went to KH for the Mason-Dixon Knitting book launch. I largely went just for the heck of it (and the Yarn Harlot's post intrigued me) and I'm so glad I did. Kay and Ann were lovely and there are a number of patterns in their book that have me intrigued to say the least.
The next four days are all very whirlwindy for me: BBQ and late drinks with Claire and Liz tomorrow; DCU v. ickpoo Houston Saturday and Easter brunch and knitting Sunday. Thank goodness I'm taking tomorrow as a mental health day.