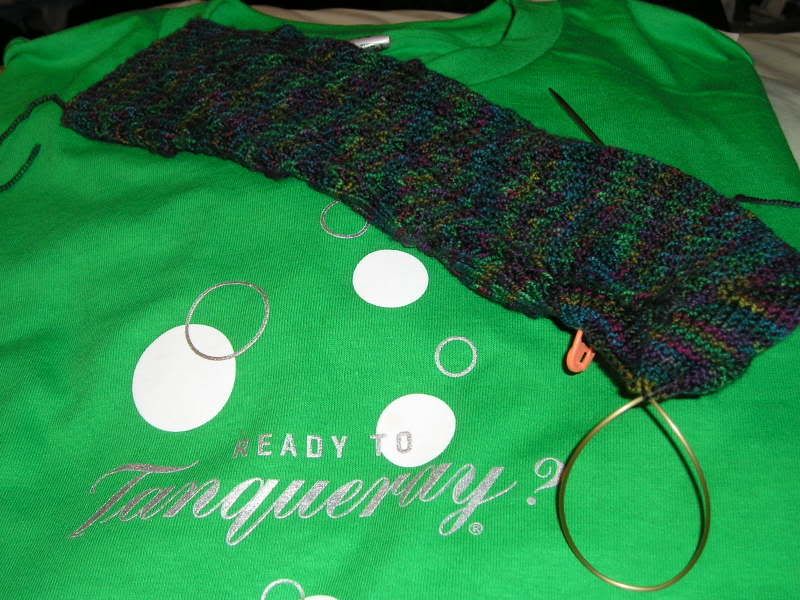 I have unknit the heel shaping of freakin' freakin' Hippo more times than I can conveniently count. I have to run a lifelline as soon as I get it stabiliized, but it's driving me bonkers. Although, I have to say I tried it on at work today and it felt like buttah. The next headache will surely be when I realize I don't have quite enough yarn to finish the second one. The question then becomes, would I rather frog the entire sock and take some length off the leg or spend $20 on another skein of CTH? That debate will have to wait for another day.
Here we have Hippo nestled with CIC's second place prize from Tuesday's trivia night (check out M's blog for details and sample questions). Patrick definitely loves us - that's really all I have to say on the matter. If only the tshirt weren't for Tanqueray. *shudder* Gin and I had a falling out in 1990 and I've never looked back.
I took a page out of Holly's book and moseyed on over to my neighborhood Borders on my way home
from work today, and this is what I turned up - Wendy's book! It's there on the left next to a couple of books by Debbie something or another. I'll be heading over to KH for the book-signing on Saturday afternoon.
The countdown to Maryland Sheep and Wool is on. A bunch of folks are going to caravan up, but they're leaving pretty early and I don't think my ride will want to hit the road at that hour. I'm afraid they know something we don't know though. At the very least, hopefully they'll leave us some Cormo - if only so I can fondle some and see what's so great about it.
I think it's time to shelve Hippo for a while and work on Gigi. I need to do a little more so I can see if I have to frog her, too.