...or at least they will this weekend. This Sunday is D.C. United's home opener against the New York-New Jersey MetroStars/MetroStars/New York RedBulls or whatever the heck they're being called this month. Apparently the MetroScum - and they'll always be the Scum - rented a bus for their little minions to travel south for the opener. I have no idea what kind of numbers they're looking at but I like my numbers better.
Soefsoef is apparently flying out from Denver for the opener; I'm not sure if she's here for a business trip and it's just a coincidence or if she's just coming out to visit for a week. AND Steph is coming out for a half-work, half-play trip. YAY! I don't think I've seen her since she and Mr. Steph were here a couple of years ago for a whirlwind East Coast trip. She'll be here for both the MetroBull and the Chivas game the following week. I can't wait to see her! So far the only things I know we're doing are the two DCU games and we're going to the National Zoo on Friday to see Tai Shan and the rest of the animals.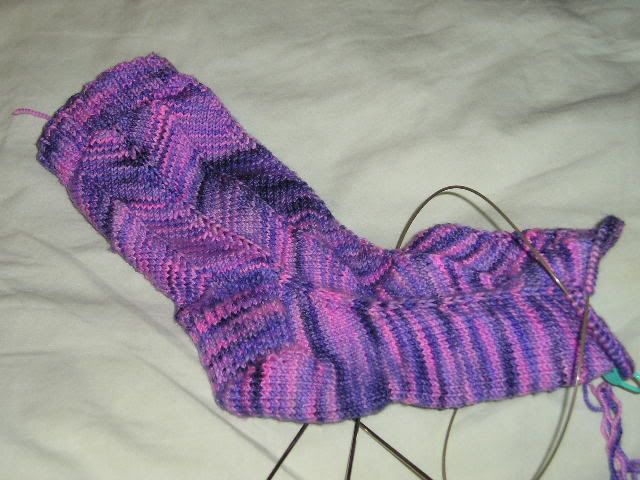 I've been slaving away on MP. I have about an inch left to do before I start to decrease for the toe. If I don't have enough yarn for the toe this time, I'm just gonna finish the decreases in a different yarn. Maybe a lovely fun fur. Someday I will figure out an interesting way to take pictures of socks in progress. I tried to figure out if I could squeeze it onto Brutus' or Pooky's legs, but it was a no go. Hopefully I'll have at least finished MP1 by the end of this week.
I cast on my Hippo socks* Saturday night while watching Madagascar with the divine Ms. M. In between outbursts of, "Hey, that part was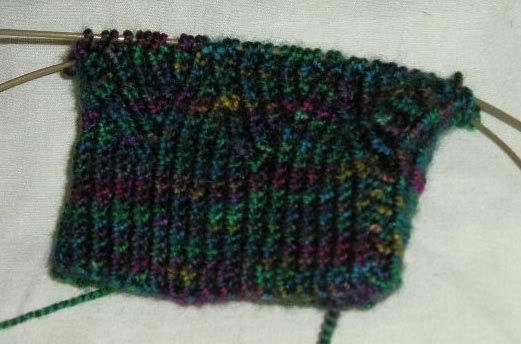 in my video!" I managed to cast on and start the ribbing using the Magic Loop method. I keep getting tangled up in the 40" cable, but so far it's working okay. Of course, I haven't actually read the pattern all the way through - that's like searching the house for your presents before Christmas morning. Anyway, I'm using the Cherry Tree Hill in Peacock. I luuuuuuuuuuv it. The photo's a little dark but you can start to see the little design starting to take shape. No more work on it til I finish MP1 though.
*The hippo socks, for those of you who haven't caught on to my non-stop renaming of patterns, is actually the Pomatomus socks for the Winter 2005 edition of Knitty. I can never remember Pomatomus but it reminds me of hippopotamus and...well, there you have it.