I'm back in D.C., all safe and sound. Despite a delayed take-off and a VERY bumpy flight, I got home safe and sound and home in plenty of time to order chinese food. Mmm, eggdrop soup on very unhappy scratchy sore throat. Doc says sinus infection so back to my friend Anti Biotix. Yummy!

So, I finally got around to finding some photos from the new
Georgia Aquarium
.
Some snazzy starfish and sea anemone and sea urchins and other
things that we could reach in and touch but that I didn't. Then there were the cool beluga whales. These three kept swimming in and out of the photo frame but I couldn't quite get all of 'em in there.
Last but not least we have the snazzy Ocean Voyager display with its 23' x 61' foot viewing window and the two big ol' whale sharks whose names have completely escaped me (Stick, do you remember?)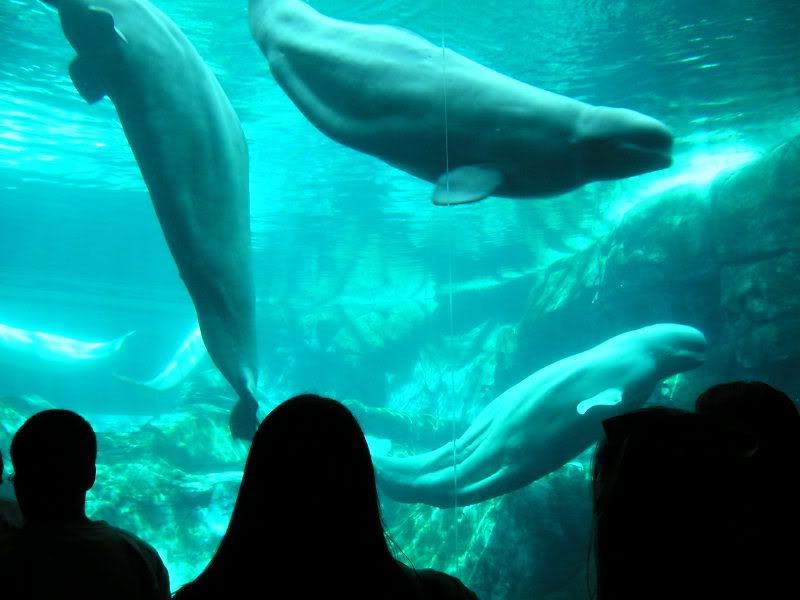 RANT: I would've had a MUCH better time at the GA Aquarium if we could just have eliminated 75% of the people. I've been on this tear lately but people just don't give a shit about anyone but themselves nowadays and it makes me insane! Parents pushing their kids in front of people and we're supposed to just move out of the way so little Johnny can see the sea lions. Old women screeching about "Look at the penguin!" to a 2-year-old who just wants to go to sleep. People ignore the No Flash Photography signs b/c it's more important for them to have a good picture to take home to show people who couldn't POSSIBLY care less than to potentially negatively impact the little critters fluttering around in the water. Grrr.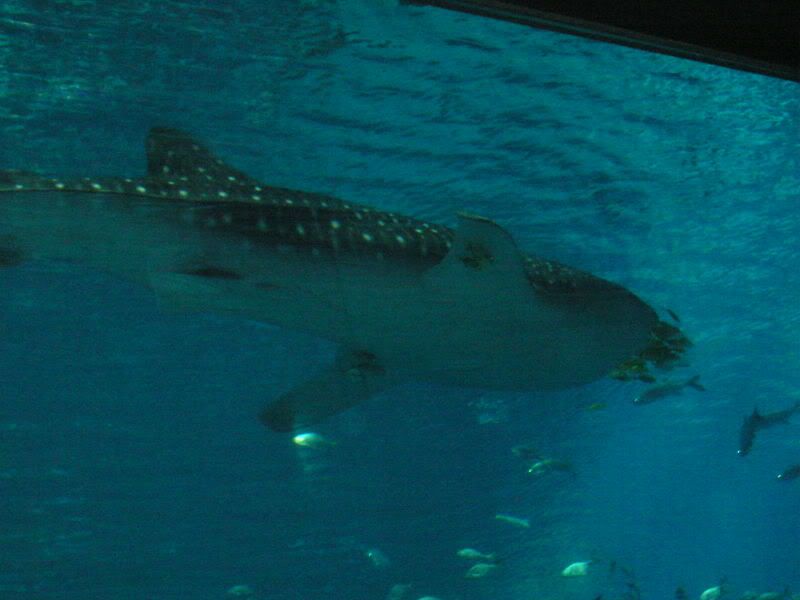 Okay, all done. So far as I know, Stick likes MP. Unfortunately, I'm gonna have to frog the sucker to have enough yarn to finish the toe. Bastard sock.
...it was the worst of times
Sunday dawned grey. Very grey. We drove to Hampton in just over an hour, and then it rained. And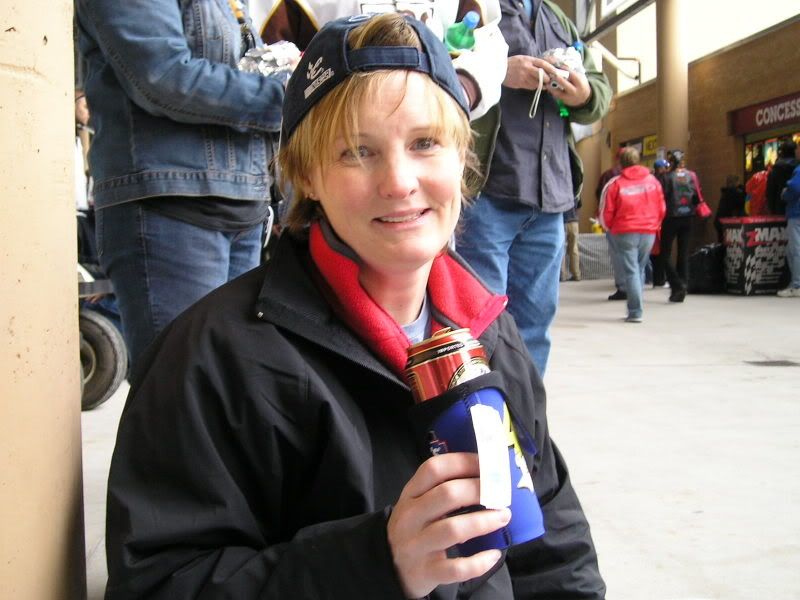 rained. And rained. Stick amused herself with her new "big can coozie" and her snazzy 48 hat (I have SUCH hat envy right now) while we tried to stay dry. We eventually schlepped up to our seats (I'm not entirely sure why she needed two seat cushions...) and hung out under the overhang and prayed for the rain to stop. It didn't.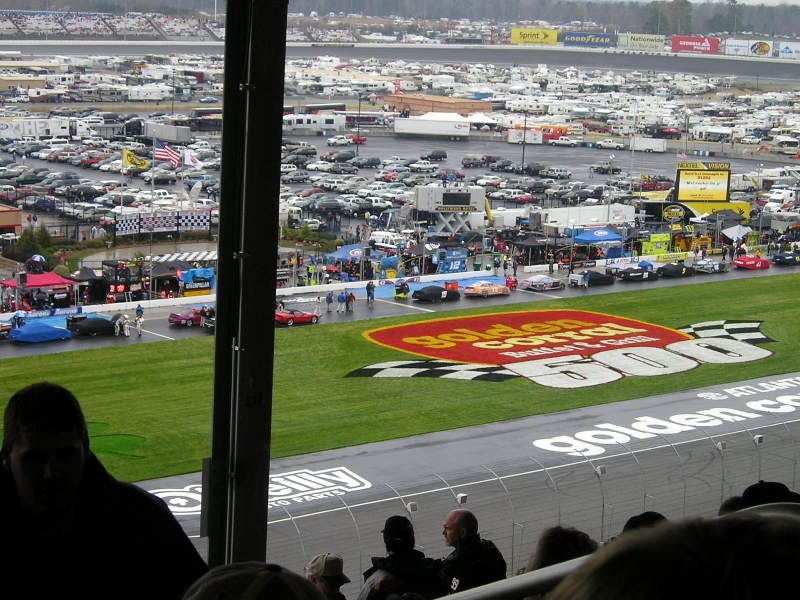 For 4 hours.
This is as much excitement as I saw at Atlanta Motor Speedway. They eventually ran the rain-delayed race Monday morning at 11 but there'd been another forecast for rain so we didn't drive down. We're not terribly bright.
Turns out -immie finished 6th and maintained his lead by 50 pts over eventual race winner Kasey Kahne. *insert token Kasey squeal here* Next week's Bristol so that should be the end of out Top-10 streak. LOL.
And now, I leave you with a picture of Ms. Riley, stealer of my shotgun seat and Queen of All Alarm Clocks: