It's Monday night which means I'll be hard-pressed to turn off Animal Planet's Animal Cops (Michigan,
SanFran, Houston, etc) marathon. I don't know why I watch this show - it usually just pisses me off. I could never be responsible for dealing with people who abused animals. I'd be arrested for beating the crap out of somebody.

Blew off SnB - again. Went to dinner and did a few rows of Inny tonight. Here's where she stands:

Slowly but surely. I was going to make the 'long version' but I think I may measure the hem-to-armhole distance on something that I know fits and see if it's closer to the short version or the long. Yes, I'm saying this largely because I'm tired of knitting it already. I am SUCH a process knitter. "What? I've mastered the 36-row repeat? Bored now..."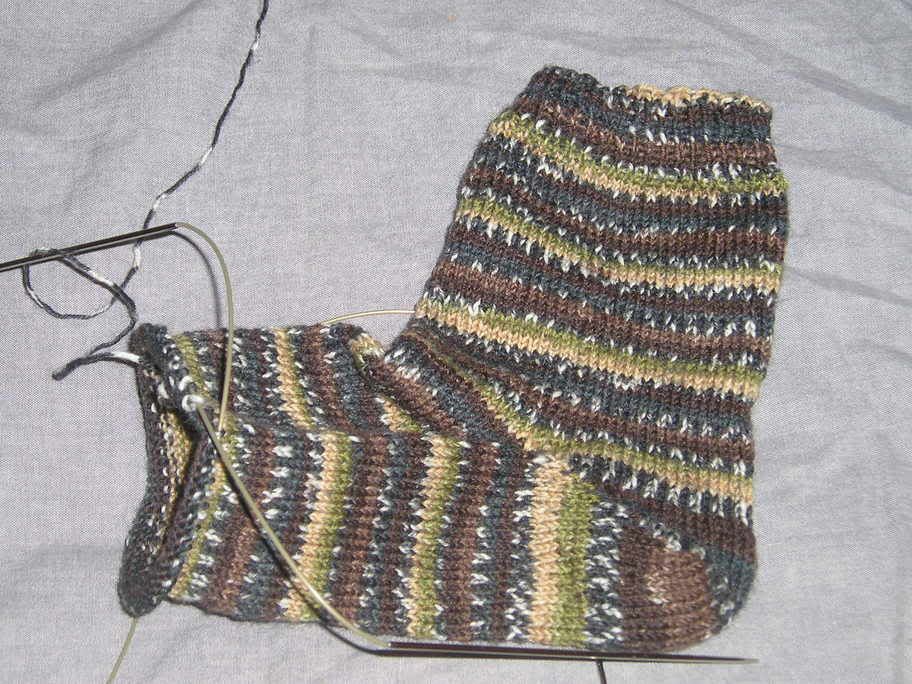 I worked on Kermit while waiting for the staff meeting to start this morning. People were most impressed, although I think it was more the self-striping yarn than anything else. I've turned the heel and have about an inch, inch and a half before I get to start to close on the toes. The picture makes it look kind of wonky - actually, my knitting makes it look wonky - but we'll see if it works.
Apparently there's some low-grade chatter going on about going on an Alaskan cruise in '07. I was fairly excited about going to Puerta Vallarta, but this may actually take precedence. I HATE cruises, but they keep coming up with ones I want to go on! Actually, an Alaskan cruise would probably be the last one I would take. At a glance, it looks like the price range is around $800-1000, not including the flight out to the West Coast. I guess I'll start saving money for that as soon as Italia is in the books.
Speaking of Italy - we have a SUPER tentative master plan. Leave the second week of Sept. and head to Venice, spend 3-4 days there, take the train to Firenze for a couple of days there, then train to Rome for another handful of days. If it ends up being too tight, we may cut out the pitstop in Firenze and maybe I'll just go back for a couple of days after Melyssa has to leave. She's a little more hamstrung by vacation time and work schedule than I am.