...it rocks for the 'Quakes no more.

On Monday, August 26, 1996, Steph and I piled into her Mercury Tracer and headed west. She'd had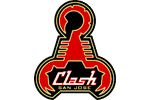 enough of this east coast mumbo-jumbo and decided to head home to CA, albeit to Moraga instead of LA. With 3500 miles to burn, we had lots to talk about: her move back West, my first trip west of Chicago, whether or not she was going to abandon my beloved D.C. United to begin cheering for her new hometown-ish San Jose Clash. She claimed allegiance to DCU but that only lasted as long as our trip to the old Mile-High Stadium (we beat the Rapids 2-1).

I suppose it's only natural. You have to love the one you're with ultimately. Over the years, her attachment to the Clash grew. Her devotion survived their name change from the Clash to the Earthquakes in 2000. She travelled to Columbus for their MLS Cup victory in 2001 and to Secaucus to see them play the MetroStars at some point or another, survived the Carter ratf*cker association, and took my favorite picture ever of Zach (*sigh*) ever in the friendly confines of Spartan Stadium.

Today, their relationship was dealt a blow, perhaps a fatal one. In their infinite wisdom,
Major League Soccer has decided to move the 'Quakes
from San Jose to Houston. Houston?!? Now, I can't pretend to know all of the politics involved in that maneuver; no doubt the move was motivated by money. In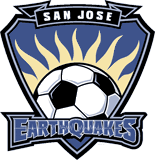 a league where the owners are still losing money every year, it's gotta be more and more difficult to find a place to play the game. But I've been to Spartan and I've sat with the Casbah and I feel for them as a group. I can't imagine what life would be like without D.C. United.

The Clash-Quakes were one of the original 10 MLS teams and the 2nd to go the way of the Dodo (name the first). The first game in the history of the league was played at Spartan Stadium. The first goal ever scored by a Clash forward (poor Jeffy) and the Clash was awarded the first MLS win.

We are the Clash! We are the Clash! We are, we are, we are the Clash!
And they will be missed.