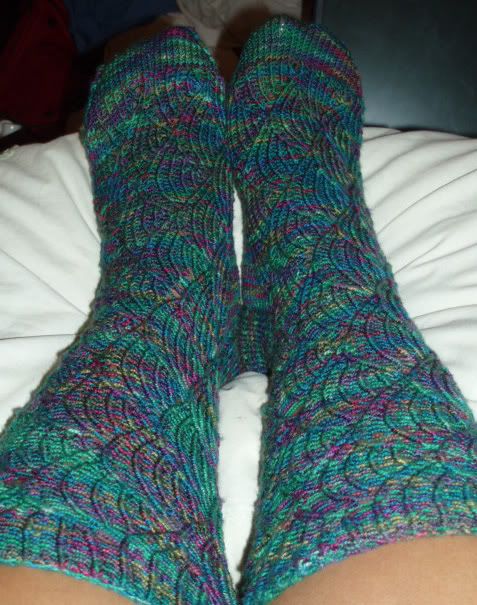 It's unofficial, but I'm fairly certain that if there were ever any sort of competition, I could kick some serious slacker knitting booty. I'm just saying.

Having said that, LOOKY! It's a crummy photo (as usual) but it's a crummy photo of a FINISHED OBJECT! And for a KAL no less!
Pattern:
Pomatomus socks from the Winter 2005 Knitty
Yarn: Cherry Tree Hill Supersock in Peacock
Needles: size 2 32" circular needle (go magic loop!)
Started: March 25, 2006
Ended: June4, 2006 (wow, that's just pathetic)
Modifications: You're joking, right?
I loved this yarn and once I got over my chart fear, it was smooth sailing. Now, they're not perfect by any stretch of the imagination - one is slightly longer than the other and one is slightly looser. I have no idea how these things manage to happen to me, but as 2006 is the Summer of Socks, I'm assuming by September I'll have mastered this whole process.
My boys - DC United - played for the third time in 8 days yesterday and brought home another 3 points, extending their lead to 10 over KC and Columbus. We're away for our next two matches then back home towards the end of the month - here's hoping they can keep it up. The 2006 World Cup starts in a five days though U.S.'s first game isn't for just over a week. I can't wait!
NASCAR SPOILER! Highlight to reveal! [Well, that little trick worked from home...sorry bout that!]

After having to use an owner's points provisional to make the field (nasty spin on qualifying lap), Chimmie rolled off, what, 39th? and had a crap day until about the last hour and a half where a combination of luck, skill, and great pit (or no-pit calls) by Chad got us back into the top 10 where we finished 6th on the day. Kenseth won (Waxler must be happy) but after having run in the low 30s all day, I'm THRILLED with a top-10 finish Matt made up about 30 points on us, but we held onto the points lead so I'll take it. Next week: Pocono.
All done. So, next up I have to finish up C's Jaywalkers (SO close!) and Gigi (ditto!) and I have to swatch Penobscot Bay before the World Cup starts.