In theory, tomorrow morning, Hol and I will purchase our vacation tickets for London & Paris this fall. In some ways I'm really excited, but there's a hint of sadness thrown in. I finally just had to take the stack of Italy guidebooks I'd purchased in the last several months and retire them to the basement. It's not that I'm not excited about going back to London or exploring the Lourve, but Florence & Rome had really been the master plan for this vacation and I'm having a little trouble letting go.
Have been doing a little knitting here and there. I think I'm going to have to alter the pesky Penobscot Bay hat. As usual, my stitch gauge was okay; my row gauge left a smidge to be desired. So, the hat for the most part is done, but I'm not sure if I'm going to add the ear flaps. It's already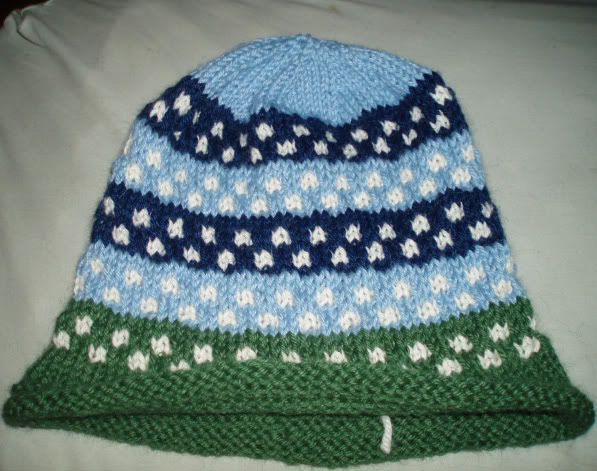 plenty long to tug down over the ears. In addition, I definitely need stranding/fair isle lessons. It's incredibly sloppy. But cute! I think I'd like it with more green, though. We'll see. I still have plenty left over to make another one.
I did a little sock yarn ordering today, too. Since we're plunkin' down cash for the trip soon, I'm going to have to go on a yarn diet of immense proportions. Didn't stop me from snapping up a little STR which I will photograph as soon as I can get my greedy little paws on it. I'm sure Hol will con me into getting some Fleece Artist when it comes into the shop. She's bad that way.
Speaking of sock yarny goodness, I've been making some progress on Sniffy. I do love the Spirit Trail Superwash/Nylon blend though. They're not even done yet but so far, of all the vast quantities of socks I've knit so far (uh, 2 pair), these fit the best by far. Maybe it's because they're toe up or perhaps because I frogged that sucker 92 times before the fit was just right. Of course, the chances of me being able to perfectly replicate sock #1 are fairly slim. And I'd upload a lovely picture of Sniffy but Blogger's being funky. Maybe tomorow.