Soccer that is. I have watched all or part of all 12 WC games to date. I'll see a smidge of the AUS-JPN game tomorrow morning but then comes the one I'm REALLY waiting for: U.S. v. Czech Republic. I'm SO nervous about our chances, but I'm taking the whole day off work (so at least I can have a beer with lunch to settle my nerves).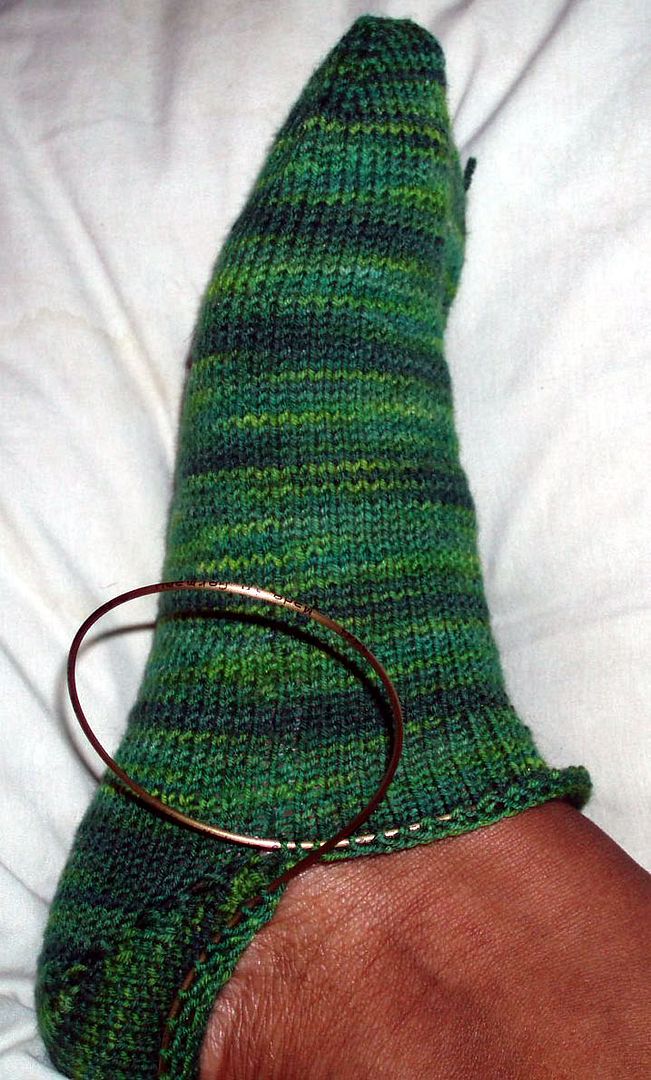 The benefit to my non-stop soccer viewing is the amount of knitting I've gotten done this weekend. I got the heel turned on Sniffy but I can't figure out where to go from here. The lacy pattern on the Dublin Bay socks runs straight up the sides, which is where the split on my magic loop is. I'm sure it's as simple as just shifting a handful of stitches and moving on, but it's too late for me to focus. If only I could find my dpns, this would all be moot. Hopefully I can find them tomorrow morning before heading to Summers.
My KWC hat is coming along nicely. Well, sort of. I love the yarn, the pattern's a piece of cake, but I've never really done well with changing colors, and this project is no different. The odd white stitches that get worked every so often just don't seem to be the same size/shape/tension as everything
else and I'm not sure how to fix it. I'm going to try to block it out and if it's still a mess, I'll keep this hat for myself and make a different one from Mr. G.
I still haven't figured out what time I'm going to head to Summers tomorrow morning. I'm thinking I'll head over during the first half of the early game so I'll head over at maybe 9:30, which just sounds ridiculous, but it's WC time - all bets are off. I'll take a book, I'll take some knitting (if I can get Sniffy to behave); I'll find a way to mark the time.
SPORTS SPOILER [highlight to reveal]:

WC games were okay, today. Troy fell asleep at the end of the match and made a mistake which lead to a game-tying goal by LAG. We're still first in the league by a point, but it's still disappointing when we should've come out of CA with 3. Hopefully they can get it together by NE next week. Chimmie didn't have the best of days, coming home 10th and clinging to the points lead by 48. On on to Michigan.
Okay, I'm gonna get some sleep before the insanity of tomorrow. And ask Igor if he's seen my dpns.