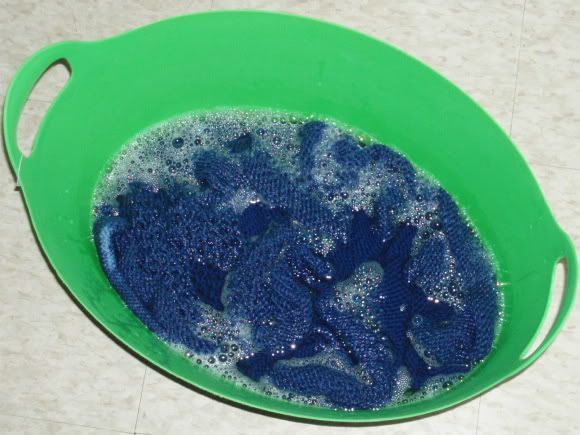 After searching my room high and low looking for signs of Sniffy I - not to mention the 4:00 a.m. bedtime - I finally found it the next day snuggled up under my unfinished Gigi. I decided to take that as a sign to finish her once and for all. Lookie! She's being wetblocked as we speak. Hopefully something magical happens and she actually ends up fitting. If not, it's off to Frog Island.
Truth be told, part of the kick in the pants was the release of the July issue of MagKnits. I'm tempted by the Ballet Camisole, despite the potential chestical issues, and I told myself I couldn't cast it on until I finished up Gigi, so there you have it. I think I'll even use the yarn from the Project Formerly Known as Thorn for B.C. so I can maintain my yarn diet (day 2 and I was already jonesin' for a fix).
BUT WAIT THERE'S MORE! My Big Sis's birthday present is finis! I like the way it turned out, I only hope Mookie and her mama feel the same.
Project: Mookie Pi
Pattern: Wendy's Felted Kitty Bed aka Kitty Pi
Yarn: Lamb's Pride Bulky in Blue Magic (2) & Silver/Grey (1); slightly less than all 3 skeins
Needles: Size 11 Denise Interchangables
Started: June 25, 2006
Completed: July 1, 2006 (wow, that's pretty good for me)
Modifications: I made the sides a little higher than called for and left off the frou frou edging. Sis claims that Mookie isn't that kind of girl
In other knitting news, I'm on the leg part of Sniffy II and it's pretty much my commuter project. More importantly I have to get crackin' on Penny. The World Cup is over on Sunday and I've gotta have that sucker knit and sewn together by then. If I can get the main part of the knitting done by Thursday night, I'll consider myself in good shape.